Drunk Fan Crashes Foo Fighters Set, Almost Destroys Drum Kit: Watch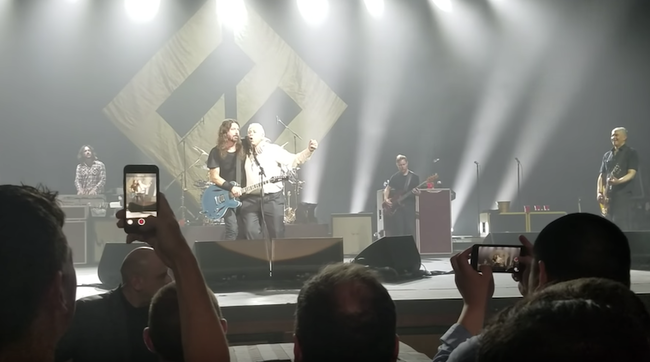 When the employees of HARMAN International piled into the Hard Rock Hotel & Casino in Las Vegas after the CES trade show on January 9th, they likely had no idea what was in store for them that night. Sure, they were going to be attending a private Foo Fighters show, but they ended up getting so much more entertainment than that.
Not only did those in the audience get to witness Dave Grohl chug a beer and subsequently tumble offstage, they also got to experience Jay from Bombay in all his drunken glory.
Though we're not exactly sure just how the man ended up onstage that night, someone at the event knew whatever was about to transpire was going to be share-worthy and started recording while the intoxicated concert-goer sauntered across the stage, dancing around and high-fiving band members. Dave signaled for the businessman to introduce himself on his mic, and that's how we learned his name was Jay. Jay from Bombay. After indulging in some champagne, the band started jamming out to "Stay With Me" by The Faces as Jay From Bombay continued to strut around, at times playing air guitar or drums and at others trying to commandeer the mic from Dave. By the end of the song, the whole crowd was chanting "Jay!"
The attention must've gotten to his head, because Jay from Bombay got a little cocky and tried to climb up the drum riser, only to lose his balance and nearly fall backwards. Bassist Nate Mendel ran over to help, but Jay somehow landed on his feet. He must be part cat or something.
Watch the absolutely ridiculous video below.