I am obsessed with Christmas. There, I said it. If there was any question, you hear it straight from me. One of my longest running Christmas themed obsessions is that of the illusive Shiny Brite Christmas ornaments. For me, just the mere sight of these vintage beauties recalls days of my childhood. I use to love the weekend after Thanksgiving, because that was decorating weekend. My great grandmother, Lewis Graham, had two old pasteboard boxes in the back of the guest room closet. Inside, was a collection of tinsel, garland, stocking, lights and my favorite, the Shiny Brite ornaments. They were amazing. Looking back, my family should have known I would grow up with a Shiny Brite addiction. I would sneak into the boxes throughout the year and gaze apon them. I had been known to keep one in my little jewelry box with the musical twirling ballerina inside, of course that was until it was discovered and I was scolded because "those were breakable." That just made them even more desirable. Don't tell a 6 year old something is off limits, they will absolutely not listen, or at least I didn't. Here we are decades later, and they are still my obsession. I pull them out every year, proudly posting pictures on social media so my friends and family can enjoy them, and most do, but few know the history. Let's get into that, shall we?
It all started in the late 16th century in Lauscha-a town in the district of Sonneberg, in Thuringia, Germany, a town well-known for its several small glass-blowing companies. In the 1870s, Hans Greiner created free-form, blown glass ornaments, and the town of Lauscha began exporting the hand-blown glass ornaments to Britain. In theIn the 1880's, after a visit to Germany, the famous business entrepreneur F.W. Woolworth became a huge buyer of the German, molded glass ornaments, Before WWII, all glass ornaments were made in Germany, so Woolworth Stores worked with a German businessman named Max Eckardt for sales and imports who had an office in N.Y. During the 1920's, with the help of relatives in Germany who silvered and intricately decorated ornaments; Eckardt decided to start his own line of ornaments from a warehouse in N.Y.C. They came in different shapes-balls, figurals, cottages, lanterns, bells, acorns etc., and were embellished with stencils, glitter and lacquer paints. These ornaments were sold under different two names: Shiny Brite and Max Eckardt & Sons. It was a German immigrant, Max Eckardt, who in 1937 realized that the war could interrupt his Christmasornament impoort business. So Eckardt and Bill Thompson, a store manager for F.W. Woolworth (who had promised a huge order) convinced the Corning Glass Company to produce machine-blown glass balls. The ornaments were then shipped to Eckardt's factories to be decorated by hand. Starting with silver baubles, the ornaments eventally came in a variety of colors like red, blue, green, gold and pinks. Exterior designs were added using stencils and included icicles, flowers, angels, nativity scenes, Holiday greetings and more.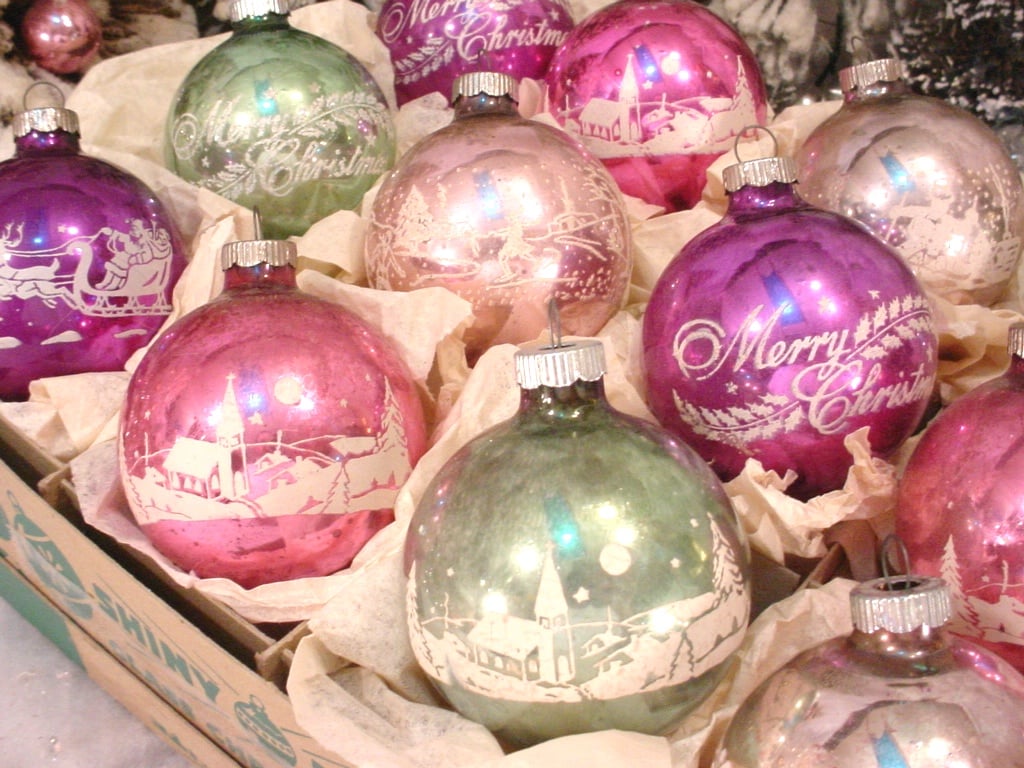 By 1941 production jumped to nearly 300,00 a day, but World War II would have an impact. During the war, silver nitrate was considered a non essential use of silver, and the ornaments were left clear. Occasionally the glass would be tinted, or a piece of tinsel was inserted inside, but usually just has painted stripes on the outside. Metal caps and ringes were standard in early production, but again the war had an impact. They were replaced with a cardboard tab and string to hang the ornaments. (Transparent bulbs with cardboard caps are considered the HolyGrail for vintage collectors like myself).
When the war ended in 1945, metal restrictions receded and the ornaments were once again capped with metal and stamped with the words "Shiny Brite Made In U.S.A."
By the time the 1960s rolled around, the increased popularity of artificial trees seemed to coincide with the need for cheap, unbreakable plastic ornaments to decorate them, causing the Shiny Brite company to close it's doors in 1962. Today, there are many collectors that keep the Shiny Brite memory alive. There are groups, and conventions dedicated to the love of these vintage beauties, and now you know a little about them. So when you are purging those outdated Christmas Ornaments, remember one man's trash is another man's treasure.