Shinedown Details New Album 'ATTENTION ATTENTION'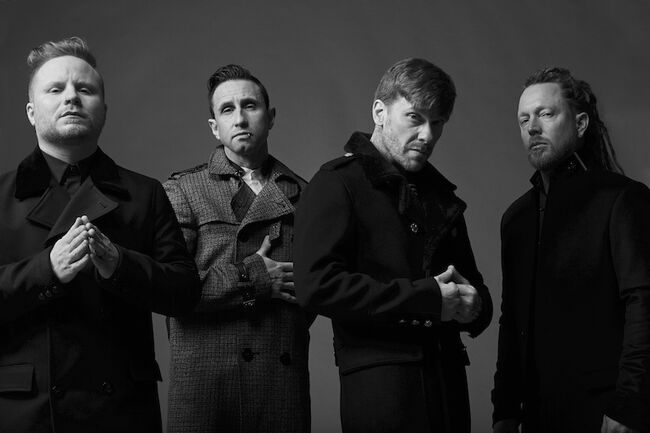 Shinedown's sixth full-length studio album, ATTENTION ATTENTION, has officially arrived and according to the band, it's "the most Shinedown record ever."
ATTENTION ATTENTION follows Shinedown's 2015 album Threat to Survival, and includes 14 new songs, including its lead single "DEVIL." As the band describes exclusively to iHeartRadio, their new album is a cohesive body of work and all the tracks included on the LP are meant to be together. They explain, "This is such an album where all of these songs belong together. These songs don't belong anywhere else but on this record."
Shinedown, who recently performed their new music live during an intimate show for fans in New York City, opened up about their new album ATTENTION ATTENTION, what it was like to put together, the meaning behind its lead single, the album title, and more. Read on below.
On the meaning behind "Devil":
"'Devil' is inspired by the fact that this individual is at that place where they're not afraid to confront these questions, and really the whole album as a whole is about not being afraid to fail. And we, as a band, don't think that you're going to be defined by your failures, I think you will be defined by the fact that you didn't give up. But 'Devil,' being such an intense way to start this album, this is this person's moment to say, 'You know what? I don't know what's going to happen, but I've got to try to figure all of this out.'"
On why they chose "Devil" as the lead single:
"It's the obvious beginning of the story. It's rock bottom for this individual who's living this record and they are sitting down in a room to try to come to terms with the fact they've destroyed themselves. They're not well. It's not a happy place and 'Devil' is just your first warning shot. It's your first introduction to this record and I think the lyric, 'It's about to get heavy,' has many different connotations, both what this person's gonna go through and also what you're going to be hearing on the record, lyrically and musically."
On the meaning behind the album title, Attention Attention:
"Well, it is a song entitled 'Attention Attention' that is on the record. We were trying to come up with all these different titles. We were all standing by the cars outside of Eric [Bass's] studio, and we were looking up at these crazy stars that you can see in Charleston, South Carolina, and we had long titles. We had these drawn out titles. We even thought about self-titling the album for a minute. And I looked at Brent and Eric and just said, 'I think the album's called Attention Attention,' which to me was the powerful statement of it. And Eric came up with the explanation point idea, which is just simple and basic. Attention Attention is just a powerful statement, it's not a long drawn out title, it's not a self-titled album, it's something that is to the point, and this album is a statement for us. And it's a very powerful statement, and I think the album art and the album title kind of lend themselves to that."
On how Attention Attention is autobiographical:
"Attention Attention is completely autobiographical. It's about us. It's about what we've gone through in the past two and a half years or so. This person is sitting in the chair, in essence, is us sitting in the chair and trying to navigate our way through undoing some damage we had done to ourselves. So it's a very personal record. We don't mind talking about it. We actually had a very lengthy conversation about whether or not we would talk about it, and we decided that was probably the healthiest thing to do was just to address exactly what this record was about. It's something that's necessary. It's an album people need to hear. I think it's gonna, gonna help a lot of individuals heal. It's gonna help a lot of people. It was inspired too, in a lot of ways, by the fans. Over the years, meeting so many different people from all walks of life in so many different countries. I remember just sonically, because I think musically whereas Brent thinks more lyrically I guess, but I just wanted to write something and produce something and we all did, that felt like what our fans make us feel. And it sounds like that. It's almost like taking a feeling and putting it into a sound and into a record and we injected that into this record the way that our fans make us feel. The way they look when we're on stage, that energy is 1000% in this record and it's intoxicating. So the fans need to know that this record wouldn't exist and it wouldn't be what it is without them and the love that they give us."
On Eric's family singing on "The Human Radio":
"The Human Radio" is literally just as the title sounds, because Eric's family actually sings on the track, including his mother, sister, nephews, and more. He explained,
"The great thing about 'The Human Radio' also is your family is on it, which it gives it this beautiful, amazing sound. Your mother, your sister, her singing on that part.
"I had my family come in and sing. We needed some female voices for the very end of the song and my family came in and sang, my nephews sang, my guitar tech, Hoogie, sang on it. We just threw a big group of people in there. So, the fact that that song ended up being as important on this record as it is and as epic as it is really, really means a lot to me just because it's something nobody will ever hear other than the four of us, probably. But we hear the work that went into that song for it to end up being what it is."
On how ATTENTION ATTENTION is unique from Shinedown's previous records:
"This was a bit more thought out in the idea of we wanted to do something that no one, just in the industry, had heard. It's a very, very necessary record. It's an urgent sounding record. It was produced by Eric [Bass]. The fact that we were able to do a record in-house with the four of us and our brother as the producer, and not only the producer, but he also mixed the album. We knew exactly what we wanted to do, we knew that we had a focus, we understood that. But it wasn't going to be phoned-in on any level. And I think that's why the record has such an impressive sound. It doesn't sound like everybody else. It's not supposed to."
The band adds, "It's the most Shinedown record ever. Because, there are no other hands in it. There were honestly no other, really, opinions in it. It was 1,000% in-house, 1,000% us, our DNA. All the way from conceptualizing it, to mixing it. That's way different than how we've done it in the past. On Threat to Survival there were many different producers and many different mixers, and this is the opposite of that. This is just the four of us and that's it."